Welcome to the
Hispanic Business Foundation of Maryland
The Hispanic Business Foundation (HBF) is a 501(c)3 organization that provides educational and community outreach to Hispanic and other minority-owned businesses as a benefit to the economic and social development of the Maryland community at large.
Gifts allow us to support our operations and strengthen our programs. Your tax-deductible contribution will have a powerful impact in promoting life-long skills to underserved students in Maryland.
HBF has designed unique programs that have a direct and positive impact on student retention, leadership skills, job-related skills and traits, and higher education enrollment and retention. Click on the boxes below to learn more about our programs and how to get involved with HBF to make a difference on these young adult's lives!
HBF works with the youth to expose them to positive role models in the business community and build valuable job skills in an internship setting while staying in school.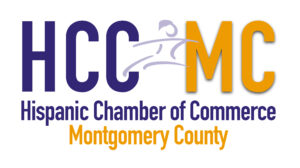 The Hispanic Chamber of Commerce of Montgomery County (HCCMC) is the parent organization that oversees the  strategic and operational activities of the Hispanic Business Foundation. Both organizations share the same Board, ensuring that all programs and initiatives align with the strategic goals of the Foundation.